Hiking the JMT this Season
SIT TIGHT!   TAKE CARE!   STAY HEALTHY!   DON'T HIKE NOW!
We have had questions about the prospects of hiking the full, or large segments of, the John Muir Trail this season. 
Most of you have not planned to start out until the snowpack has cleared, sometime in late June.
Those plans may yet be reasonable, but please be patient.
Yosemite and SEKI National Parks, and Sierra National Forest remain CLOSED.
The Inyo National Forest has CLOSED all campgrounds, day-use facilities and visitors centers until further notice.
Please consult NPS and USFS web sites for terms and conditions of possible staged re-openings.  
FOR NOW, PLEASE REFRAIN FROM STARTING YOUR JMT HIKE!
As you all know, the Covid-19 virus has changed the way we live, travel and recreate.
While state and local authorities are beginning to re-open, terms as they may apply to outdoor recreation and the services need to support it, are still being formulated.  
Current advisories restrict all unnecessary travel and encourage everyone to stay home if possible.
We must all maintain a safe social distance from one another—at least six feet apart—and wear a mask when in public places.
 Along the JMT's route, hotels, motels, inns and hiker hostels are beginning to re-open subject to local advisories.
Please be flexible and patient in your JMT planning to allow federal, state and local authorities to manage the process.  
For now, DO NOT TRAVEL TO, OR START, A JMT HIKE!! 
JMT Hiker Resources
Well-prepared hikers are the happiest and safest! Below are links to useful information for planning your John Muir Trail hike. Whether you want to know about snowpack conditions or get some helpful tips on preventing blisters, you will find it all below. If you would like to add any information, please contact us.
Planning your hike
Useful advice and resources from other JMT hikers.
Help provide valuable information to share about hiking the JMT.
Register for the JMT Hiker Survey BEFORE you take your hike.
Promptly when you finish, log back on and fill in all the details of your hike.
Learn from past JMT hikers. Read JMT Hiker Survey reports​ from prior years.
Share your ​trip plans​ and find others who will be hiking at the same time
Share rides & shuttles to your start or finish points. Borrow/lend bear canisters.
A wealth of information from Elizabeth Wenk (JMT guidebook author and valued JMTF board member). Contains information on waypoints, maps, stream crossings, alternates, and bailouts.
A collection of public information about hiking the JMT.
Includes maps and details on planning, packing, terrain, and safety.
JMT Conditions
What it is like on the JMT right now?
These current trail conditions will help you plan and be prepared.
2019 Crowdsourced snow line elevation reports
The 2019 report for stream crossings will be similar to Elizabeth Wenk's 2017 report
​2019 Snowmelt Conditions​ will be similar to this report from 2017
Sierra Passes and ​Fords report (PDF Download)
JMT Permit Info
Make sure you have all the correct permits for your hike. You will need a wilderness permit to hike the JMT. These permits are in high demand. Make sure to plan well in advance.
Southbound from Yosemite:
You'll need a permit from Yosemite National Park. These permits are processed via a lottery-system 24 weeks (168 days) before your start date. It is best to apply exactly 168 days in advance: JMT spots usually fill up on the first day reservations are available. Or you can try for last-minute availability in person at a permit station in the park the day before your trip.
Northbound from Mount Whitney:
You'll need a permit from Inyo National Forest. You can apply for the lottery between February 1 and March 15. On April 1st, online reservations open for the few remaining spots. They do not have walk-in permits.
Official Yosemite permit information
Official Inyo/Mt. Whitney permit information
The Facebook and Yahoo JMT ​Permit FAQ​ on How to Get a JMT Permit
Advice on navigating the ​Inyo National Forest permit system
Campfire / stove permit​ (These are required with Inyo permits)
Yosemite trailhead availability report
Donohue Pass availability chart. An exit quota is in effect for JMT hikers exiting Yosemite over Donohue Pass.
Self-Care
Take care of yourself so you are able to enjoy the hike.
Here are some tips.
Foot Care​ on the JMT – Items to consider getting and why
Blister​ prevention and treatment
JMT ​Altitude ​Acclimatization Guide
JMT Guidebooks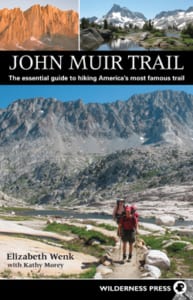 Plan on hiking the JMT? We highly recommend picking up a copy of Elizabeth Wenk's "John Muir Trail" Guidebook, hard copy or digital. The completely updated edition of this Sierra classic includes significant information found nowhere else. The new John Muir Trail meticulously describes the entire trail, its history, geology and Alpine biology, and is written for today's hikers. The book includes GPS coordinates for every established campsite and junction, locations of bear boxes, and detailed maps of all key segments of the JMT.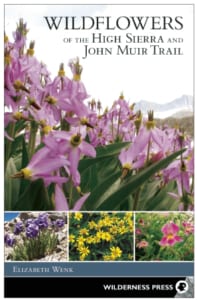 "Wildflowers of the High Sierra and John Muir Trail" by Sierra expert Elizabeth Wenk includes photos and descriptions of approximately 300 species of wildflowers and flowering shrubs in the High Sierra. This concise guide differentiates between species using features easily identifiable to a non-botanist. Descriptions include the species' common and scientific names, family name, growth form, flowering time, elevation range, region, specific locations on popular trails, and how to identify the plant using color, petal number, leaf shape, height, and more. It is a perfect companion for JMT hikers interested in identifying flowers that they are likely to see on the trail.